Challenges of Leave a Nest with Curious Kids.

Leave a Nest Co., Ltd. started as a science venture company in June 2002 by 15 graduate science students. To resolve science graduate employment problems and the decline in interests for science among the younger generation, an in house training program for university students was developed and workshops in schools were also conducted. Today, we conduct more than 150 workshops per year throughout Japan. We also have a direct network with more than 100 companies, 2,000 teachers and 10,000 researchers. Together with our partners and supporting network, we aim to contribute to the world through Science and Technology by engaging in Science education, human resource training and research development projects.
"Bio Discovery Lab" is a life science laboratory for elementary school students operated by Leave a Nest Co., Ltd.This program aims to develop curiosity and proactiveness to find out the wonders of living beings through conducting research with assisting Leave a Nest staff.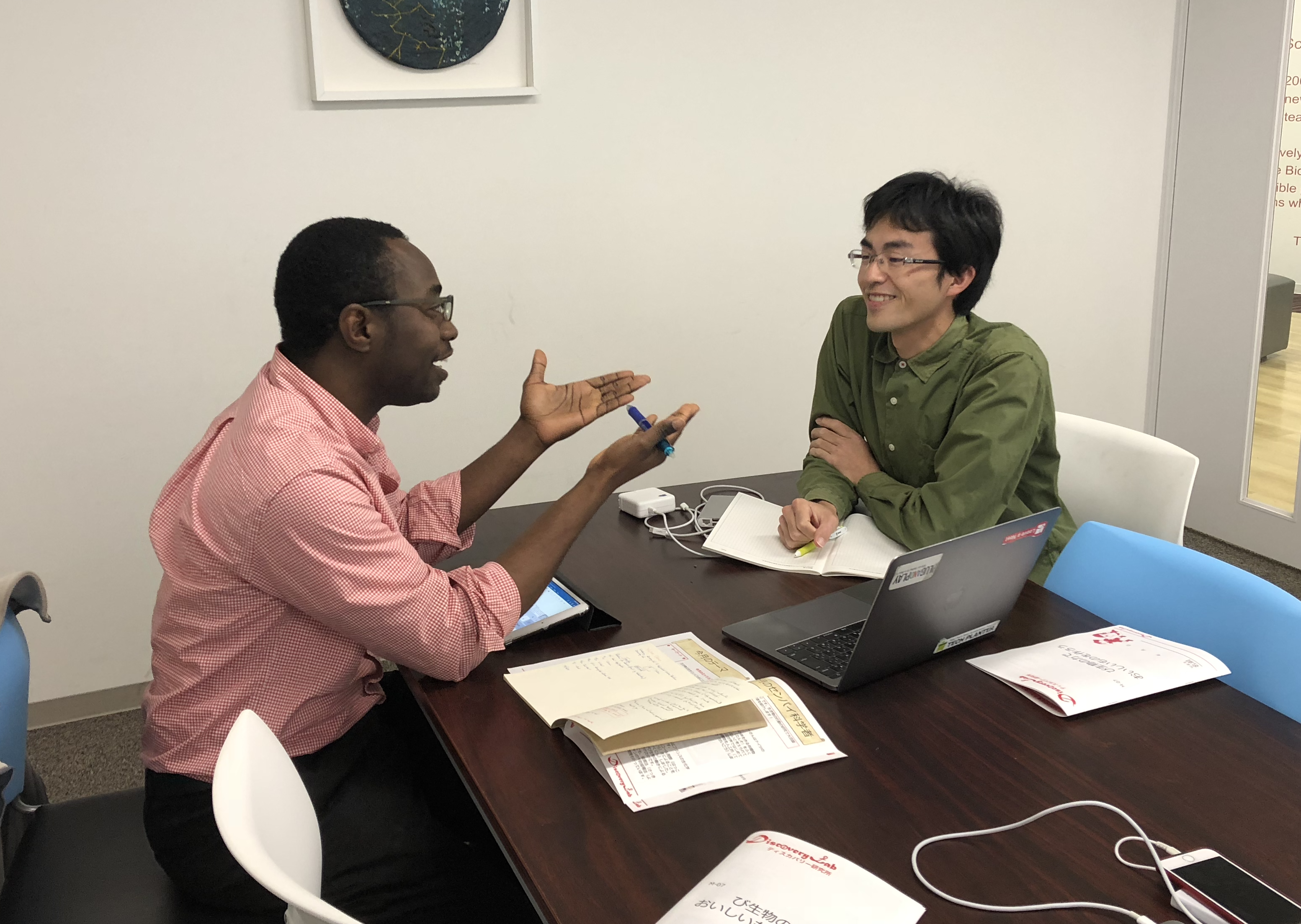 Ever wondered how to explain difficult and sophisticated scientific theories and principles to  a young inexperienced mind of a child? Here, we interact with Dr. Tsuyoshi Inoue who shares with us his thrilling experience in making experimental science exciting to children in Japan. He shares with us the benefits with its accompanying fun and excitement in creating interest in science through "Leave a Nest" Bio Discovery Lab's education module.
Hi Inoue-san, Can you tell us about how you joined the Bio Discovery Lab?
I just wanted to know how children develop interest in science. I do believe children have some hidden passion and curiosity. And curiosity is key to creating interesting research topics. I joined to have fun and create new research ideas together with children. By interacting with kids this way, you give them a chance to know how beautiful and interesting science is.
Science is generally perceived to be sophisticated and reserved for intellectuals and geniuses. How are you able to break down the core of science in an easier way to children?
Yes, I did have a similar perception about science. When I was in university as an undergraduate, I also thought scientific research was done by geniuses. But after joining "Leave a Nest", my view has changed. Since I joined the Bio Discovery Lab program, I have come to acknowledge that anyone can be a scientific researcher; even children. I have come to learn with admiration how children as young as 7 years are able to learn and apply knowledge acquired through the course.
Indeed, one needs to understand the "core" (theory and the fact) about science to be able to explain it to inexperienced minds like that of kids. As a team, we meet to discuss and set a goal for our class. This is done with two objectives. Firstly, the knowledge we want to impart and the secondly, the appropriate skills the children need to acquire during the course.
Can you briefly describe the Bio Discovery Lab workflow?
Children usually join the Bio Discovery Lab by recommendation from their parents. Also, we do organise trial classes where children can attend to explore and later decide whether to join the Bio Discovery Lab or not. Recently, some students have joined Bio Discovery after developing interest during the trial class.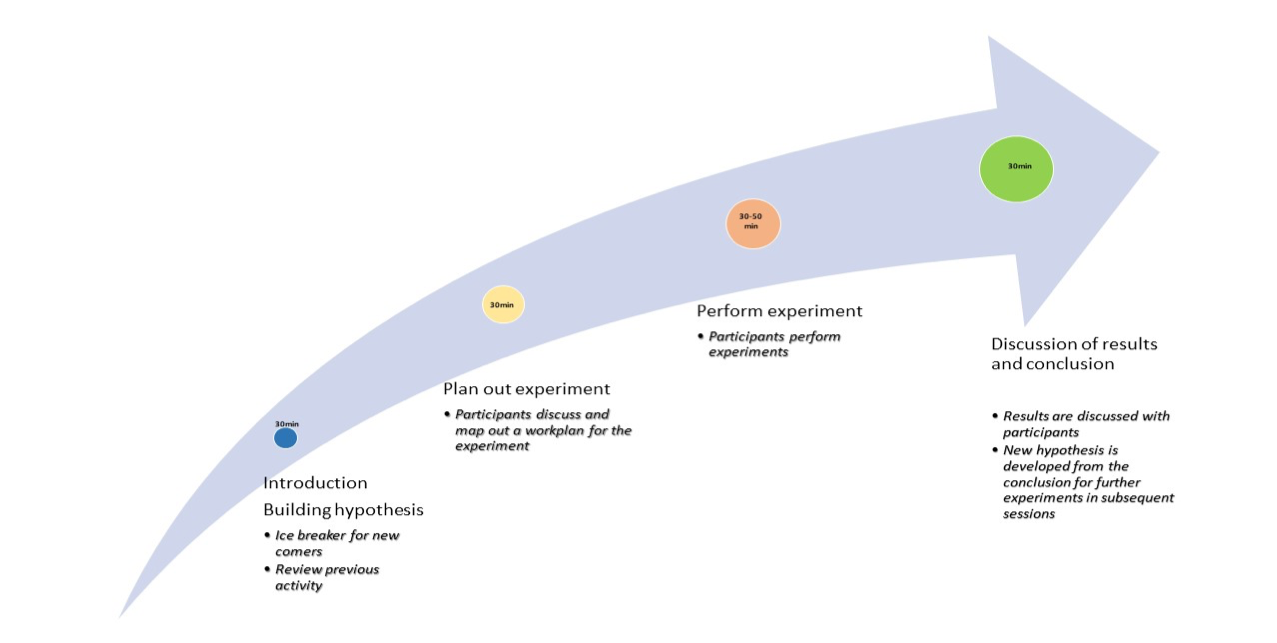 A term in the Bio Discovery Lab consists 4 sessions which is completed in a year. During the first session, we demonstrate to kids why observation is an important virtue to becoming a good scientist. The second session is used to explain results from the observations made from previous experiments. Here participants learn the skill of interpreting experimental outcomes. They are made to understand how and why such results were obtained. In the next session, we focus on guiding the children to build hypotheses. Then finally, participants perform independent experiments under minimal supervision. Some experiments are performed in groups. By performing group experiments, we encourage  children to interact with colleagues by discussing results with group members.
Bio Discovery Lab holds sessions twice each month on a biweekly basis. Each month has a specific research theme. The first is the start-up session which  is used to demonstrate and explain how experiments for the month's theme are performed. During the second session, which is the challenge time, participants perform the experiments demonstrated in the previous session. The main goal of Bio Discovery Lab is to lead the participants to ask questions and build their own hypotheses as well as discover new ideas.
We don't evaluate children by a score or grading system. We have developed an observational evaluation system where after each class session, teachers do have a regular meeting for feedback on participants' progress. To ensure quality and efficient contact time, we keep a small class size.
How do you ensure that children are composed and focused on their respective tasks and not loitering or wandering about?
Indeed, working with children is quite challenging. The age range for children in the basic class is between 7 to 12 years. I have had some tough times too. Last year I took up a task of lecturing the middle class (doctor course) but I eventually had to quit the class. To manage the children, we try to make the lecture as short as possible (maximum of 10 minutes) and very attractive to the children (including interactive graphics). We make the presentations interactive to avoid boredom. In seldom occasions, when some kids misbehave we have had to scold them. We usually get them grounded for some few minutes.
Can you share any memorable moments with Bio Discovery Lab?
Sure! I have actually had good and bad moments. My bad moment happened quite recently when I had to quit the middle class because some of the students didn't like me. Hmmmm; Really unfortunate!
But I have good ones too! Usually during the final presentation by children after the course. I feel fulfilled when I see the children give their prestation. It is refreshing to see what skill and knowledge have been imparted to the children compared to the time of entry.  They present and respond to questions in a scientific way. I do receive positive feedback from other staff about how the kids have grown over the year. We also have alumni who actually continue to pursue research. They occasionally get in touch to discuss ideas about their research. I learn a lot by interacting with the children. A very important lesson is "No matter your age, having a curious mind will make you a good researcher".
What will be the most important point for teachers to consider to raise next generation of research scientists?
The teacher should have a research interest. During our initial session we introduce our research background to the children and how interesting our research fields are. The teachers need to have a passion for science too. I found that performing experiments is one of the key ways for the teachers to find what interests the kids. Just lecturing about the theory of science all the time won't allow us to know what children are thinking. Each child has a different perspective and it is important to elucidate these perspectives through interactions during experiments.
It is fun working with geniuses and curious minds. The children have fun while they learn. They get to understand very sophisticated scientific theories and principles  in a very easy way, by using basic and familiar tools in everyday life. This eventually leads to developing interest in science. It is possible to replicate this around the world even in places where resources are limited. The best way to learn is by practicing hands-on. I encourage science educators particularly those at high school and elementary level to incorporate more experiments in their teaching. This has proven to be very effective.
Writer's Profile:
Prince Kofi Parbie
Doctoral course, Graduate School of Medical Sciences, Kumamoto University, Japan.
My research focuses on understanding HIV-associated pathogenesis and development of intervention strategies for the control of HIV/AIDS and other related infectious diseases.