Revolutionary method in drug designing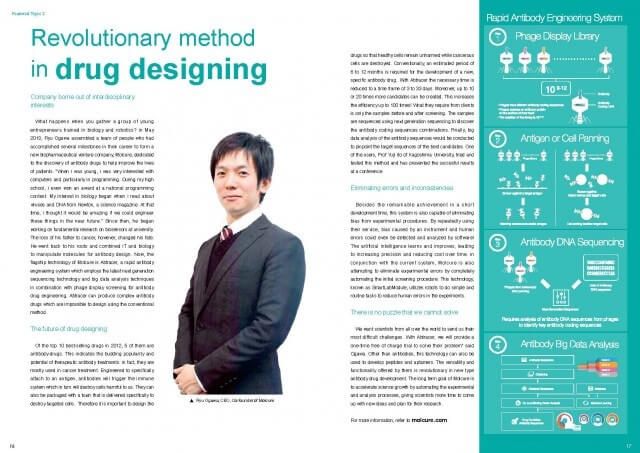 Company borne out of interdisciplinary interests
What happens when you gather a group of young entrepreneurs trained in biology and robotics? In May 2013, Ryu Ogawa assembled a team of people who had accomplished several milestones in their career to form a new biopharmaceutical venture company, Molcure, dedicated to the discovery of antibody drugs to help improve the lives of patients. "When I was young, I was very interested with computers and particularly in programming. During my high school, I even won an award at a national programming contest. My interest in biology began when I read about virus and DNA from Newton, a science magazine. At that time, I thought it would be amazing if we could control these things in the near future." Since then, he began working on the fundamental research of biosensors at the university. The loss of his father to cancer, however, changed his fate. He went back to his roots and combined IT and biology to manipulate molecules for antibody design. Now, the flagship technology of Molcure is Abtracer, a rapid antibody engineering system which employs the latest next generation sequencing technology and big data analysis techniques in a conventional phage display method for antibody drug engineering. Abtracer can make complex antibody drugs which are impossible to synthesize using the conventional method.
The future of drug designing
Of the top 10 best-selling drugs in 2012, 5 of them are antibodies. This indicates the budding popularity and potential of therapeutic antibody treatments. In fact, they are mostly used in cancer treatment. Engineered to specifically attach to an antigen, it will trigger the immune system which in turn will destroy cells harmful to us. Therefore it is important to design the drugs so that healthy cells remain unharmed while cancerous cells are destroyed. Conventionally, an estimated period of 6 to 12 months is required for the development of a new, specific antibody drug. With Abtracer the necessary time is reduced to a time frame of 3 to 33 days. Moreover, up to 10 or 20 times more candidates can be created. This increases the efficiency up to 100 times! What they would require from the clients is only the samples before and after panning. They would then run the samples through the next generation sequencer to diagnose the key antibody coding sequences combinations. Then, big data analysis of the antibody sequences would be conducted to pinpoint the target sequences of the candidates. One of the users, Prof Yuji Ito of Kagoshima University, tried and tested this method and presented the results at a conference.
Eliminating errors and inconsistencies
Besides the remarkable achievement in a short development time, this system is also capable of eliminating bias from libraries. By repeatedly using their service, bias caused by an instrument and human errors could even be detected and analyzed by machine! The artificial intelligence learns and improves, leading to increasing precision and reduced cost over time. In conjunction with the current system, Molcure is also attempting to eliminate experimental errors by completely automating the initial screening procedure. This technology, known as SmartLabModule, utilizes robots to do simple and routine tasks to reduce human errors in the experiments.
There is no puzzle that we cannot solve
"We want scientists from all over the world to send us their most difficult challenges. With Abtracer, we will provide a one-time free of charge trial to solve their problem" said Ogawa. Other than antibodies, this technology can also be used to develop peptides and aptamers. The versatility and functionality offered by them is revolutionary in new type antibody drug development. The long term goal of Molcure is to accelerate science growth by automating the experimental and analysis processes, giving scientists more time to come up with new ideas and plan for their research.
For more information, refer to molcure.com